Does your bathroom look more beautiful? For a long time, curtains have been used to cover our bathroom areas. It is hard to keep these curtains clean every time ad they go dirty easily, making it hard to keep your bathroom area neat all the time. You don't have to worry anymore; we have small shower doors for your small bathroom that will make that whole process to be easy for you. If you are in the market looking for the best shower doors for your small bathroom, then this article is of great help to you.
Small shower doors are essential; using a shower door will transform your small bathroom with the right balance of elegance and sophistication. Another great advantage of using shower doors is that it is easy to clean and maintain then after installing them just once.
A List of Best Shower Doors for Small Bathroom
Dreamline infinity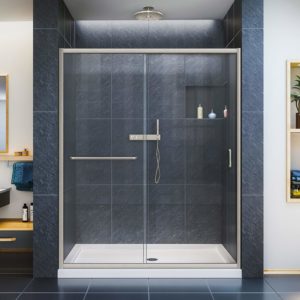 This is a semi-frameless shower door best for your small bathroom. It is unique and easily fits into your layout because it is reversible for either left or right opening. This door has the highest levels of safety as it comes with a thick clear tempered glass that is certified.
To give an ultra-finish, this small bathroom door has 1 in adjustment for each side and up to four in. Its width is also wide enough with bottom rails that can be shortened up to 4 in.
It is made up of aluminum that is anodized make it environmentally friendly with a durable finish.
Kohler k-706008 levity bypass door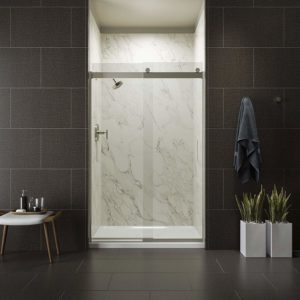 This is another excellent choice for your bathroom door. This door has a bypass system that makes it cost-effective and low in maintenance. Installing this door is easy as it has an innovative roller design with a plumb for easy adjustability. If you are those people who like silence, then this is a perfect choice for you. It had a cushioned center guide to offer quiet sliding.
Kohler bathroom door has a clean coat glass that repels water making it easy to clean.
Frameless, 1/4-inch-thick Crystal Clear tempered glass
Out-of-plumb adjustability while installed
Vertical blade handles
Clean Coat(TM) glass treatment repels water for improved ease of cleaning
Not for use in hospitality
Aston SDR 983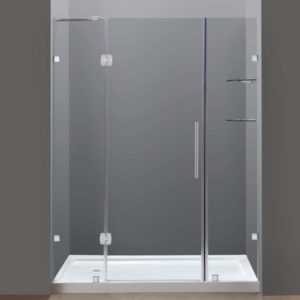 This is a frameless shower door that offers the best alternative for your bathroom. After installing, you won't experience the risks of rust or corrosion. Due to its frameless construction, it is easy to clean and maintain. It provides a sophisticated and sleek finish in your bathroom.
This door comes with some extras, and it comes with two clear glass shelves
Easy to clean and install, the deluxe seal stripes complement the frameless design and prevent leakages.
Delta SD3956944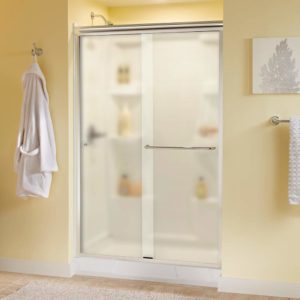 What makes this door is to stand out among others is its capabilities to accommodate out of plumb conditions up to 3/8".
It is made from zinc and aluminum
Durable and corrosion-resistant
It has a spot guard coating to prevent making it easy to clean and resist water sports
Dreamline Encore bypass tub door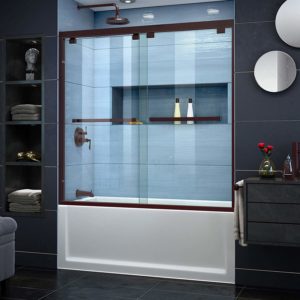 This is the last in this review. It is a user-friendly door that allows entry from left and right. It is an excellent choice for bath taps.
With Dreamline encore door, you won't require to have additional stationary glass panels for enclosing your bathroom space.
It is easy to install and clean
The frameless design makes air to flow freely
Smooth, quiet gliding operation