A well-organized and aesthetically pleasing bedroom can create a comfortable and relaxing space. A small bedroom vanity can play a crucial role in keeping your bedroom clutter-free and organized. From makeup to small accessories, a bedroom vanity is perfect for keeping everything at your fingertips. But finding the right vanity for a small bedroom can be a challenge. That's why we have compiled a list of the top 5 best small bedroom vanities that will fit into even the smallest spaces. These vanities are easy to assemble, portable, and will help you create a functional and stylish bedroom.
A List of Top Best Small Bedroom Vanities
Canvas Vanity Table with Lighted and Tri-Folding Mirror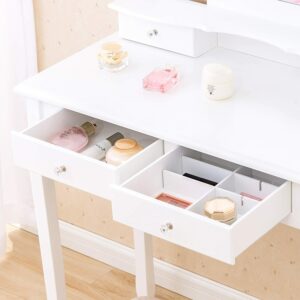 The Canvas Vanity is a small bedroom vanity best suited for people who want to bring a dash of modern minimalism to their bedrooms. This vanity features an E1-grade environmentally-friendly MDF construction of the table. Thus, the vanity table is stylish and safe to use in any room. Better still, the table stands on legs made of superior pine wood for durability and stability.
The vanity table features four drawers for easy organization of your perfume, cosmetics, and makeup brushes. Adding to that, it features a 3-fold mirror to provide full visibility from different angles. Featuring 10LED mirror lights, you can expect additional illumination to help you with your makeup procedures. Besides that, the LEDs provide two lighting modes, while they are equipped with a switch for an effortless selection of the modes.
Pros
The vanity set includes a cushioned stool.
It is easy to assemble and supplied with assembly instructions.
The table features an amazing lighting.
Beautiful and sturdy construction.
Cons
The vanity set is quite pricey.
Titoni Vanity Table Makeup Set Dressing Table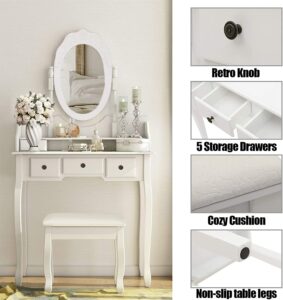 Enhance the style of your bedroom as you add more storage using the Titoni Vanity Table. The table comes with a multi-purpose and stylish stool for user convenience. The stool is fitted with a high-density sponge that won't collapse. Its cushion cover is breathable and fitted with decorative patterns so that it is beautiful and elegant while added to any room.
Best suited for those who need a durable small bedroom vanity, the table and stool are supported by solid wood legs. Better, the legs highlight non-slip pads for stability and firmness. The table can withstand a weight of up to 220lbs to ensure durability. Its sturdy frame does not wobble during use for guaranteed strength. Fitted with a 360° spinning mirror, this is one of the best vanities for those who need a reliable all-around view.
Pros
Elegant and stylish construction.
Round corners ensure safety.
5 removable drawers provide sufficient room for organizing personal items.
Well-made and solid construction.
Cons
Takes time to put together.
VASAGLE Vanity Set Dressing Table with Mirror
An ideal gift for a makeup lover is the Vasagle Vanity Set Dressing Table. It features a spacious drawer and four small drawers to let you store brushes, powder, and eye shadow. Better still, the table integrates a round mirror surrounded by ten dimmable light bulbs. This means that you can use the bulbs for additional illumination for easy makeup application.
The table features a stylish appearance comprising a scratch-resistant surface, solid wood legs, and a premium glass mirror. Further, it comes with a high-quality stool with solid wood legs for reliable support of people with a weight of up to 286.6lbs. The bedroom vanity comes with an assembly tool and clear instructions for easy assembly.
Pros
The vanity set comes with easy-to-follow instructions.
It is easy to put together.
Easy to fit into tight spaces.
The bright lights are dimmable.
Cons
The drawers are not very spacious.
Fineboard, Rustic Brown Dressing LED Lights and Mirror Makeup Vanity Table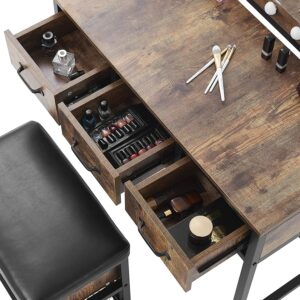 Make your bedroom an appealing and welcoming area once you purchase the Fineboard, Rustic Brown Makeup Vanity Table. This table features a large mirror that is divided into three parts. The mirror features LEDs at the top and bottom to ensure that you are getting the required brightness for precise makeup application.
Besides that, vanity includes three drawers. In them, you can store your accessories, makeup, jewelry, and makeup application brushes to ensure the easy organization of your cosmetics. The vanity table comes with a stool. The stool highlights a soft, padded, and wide seating space for guaranteed comfort to the user.
Pros
The drawer opens and closes smoothly.
The leather seat is comfortable and easy to maintain.
Comfortable-to-hold drawer handle.
The lights cast a beautiful shining illumination.
Cons
The drawers do not include latches.
The instructions are not clear.
Kottova Vanity Mirror with Lights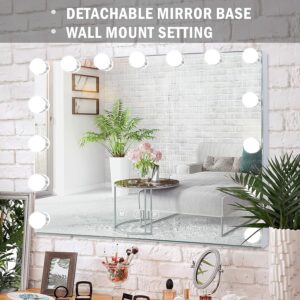 The best small bedroom vanity for makeup lovers is the Kottova Vanity Mirror with Lights. The 10 times magnifying mirror features two suctions on the back that makes it easy to set up and take up. What's more, the mirror is sounded by 15 dimmable LED bulbs. The brightness of the bulbs is easy to adjust using smart touch control buttons for perfect illumination when applying your makeup.
Featuring a solid metal frame and wide base, the vanity mirror is an excellent choice for a durable and stable vanity mirror. Also, the mirror integrates a detachable base and a wall-mountable design for easy installation. The built-in USB port is another plus of the vanity mirror to allow you to charge your phone or tablet as you get ready.
Pros
The vanity is easy to put together.
Its lights provide a perfect lighting.
A USB port is suitable for charging the phone.
Good quality construction guarantees durability.
Cons
The vanity is a little pricey.