Light blocking: curtains that can block up to 99% of light
Noise blocking: curtains that can muffle outside noise
Energy savings: curtains that can help control room temperature.
These features make blackout curtains ideal for night workers and day sleepers.
Is it recommended to sleep with blackout curtains? Yes, blackout curtains can greatly improve sleep and overall health. Research shows that light has a significant impact on sleep, and blackout curtains can help reduce light exposure.
Do blackout curtains actually work? Yes, blackout curtains effectively block light and noise, promoting a better sleep environment. Additionally, they can help maintain room temperature, making them an excellent choice for night workers.
Blackout curtains come in different colors and finding the best one can be overwhelming. But, you can rest assured knowing that the best blackout curtains are those that offer the above-mentioned features.
[ Best Cooling Pillows for Side Sleepers ]
A List of Top Best Blackout Curtains for Day Sleepers
Nicetown thermal grommet blackout curtains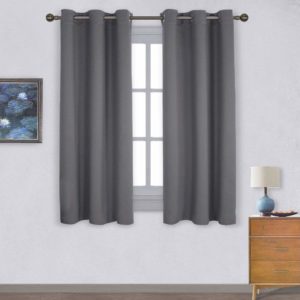 This is one of the best choices in the market to consider. If you are looking for room darkening curtains that will make your day sleep to be wonderful, then this is the best choice to consider.
Nicetown curtains come in two panels set. They are available in a wide range of colors to choose from and in six sizes. Some of the available colors include bright and neutral, as well as fun sheds.
They are made from heavy microfiber that is woven with triple weave techniques that are capable of blocking more than 90% of light. This type of curtains is capable of maintaining your room temperature as it insulates against chill and heat. Washing is not as easy as you can machine wash them.
Heavy microfiber blackout curtains
Shading performance of about 85% blackout
Thread trimmed and wrinkle-free
Quality fabric without liner feels soft and heavy
Durable
AmazonBasics blackout curtains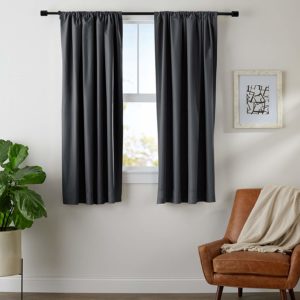 This is the best option for those people who are limited financially, but that doesn't mean the quality is compromised. They come with tie-backs; it also comes in 6 sizes so that it can fit any window. We have nine different colors to choose from. AmazonBasics curtains are made from triple weave fabric. They block out UV and sunlight rays making your day sleep to be undisturbed. They are also blocking any noise that might be coming from outside your house and completely insulates your home from cold and heat. They are machine washable and fit perfectly OK decorative rods.
100% polyester
2 panels made of innovative triple-weave fabric; no stiff liner
Rod pocket fits any standard or decorative rod
Deconovo thermal insulated two-panel curtains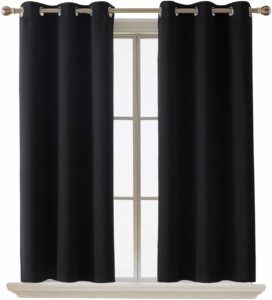 For those people who like to have a variety of unique colors, then this is a good option for you as they come in a whopping twenty-three colors and a total of 13 sizes. This allows you to find the perfect choice to compliment your décor. These curtains are lined with silver fabrics which make then to be effective in blocking light. They are useful in insulating your house against temperature variations and are machine washable.
The darker the color, the better the light reducing capabilities
Made of materials with thermal insulation properties
Ssilky, soft, drapery and very pleasant to touch
Machine washable, wash below 86F
Classic Belgium flax curtains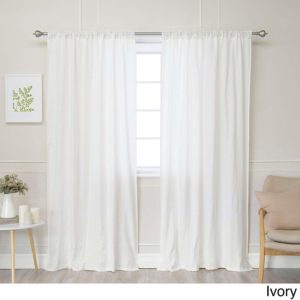 There is the best choice for your bedroom as they are useful in blocking light and are attractive. They come in just three sizes and eight different colors. They are made from 100% flax linen and have three hanging options. You can dry-clean them if they ever get dirty.
Pure 100% Belgian features rod pock and back tab hanging options
Features rod pocket and back tab hanging options for versatile styling
Evelyn linen blend curtains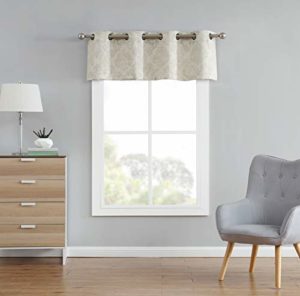 They are a perfect choice for this person with kids. Don't let sun rays wake up your angel. These curtains are effective in blocking out light and cones in 4 sizes. You have a choice to choose from 8 soft colors. Why should you even consider this block curtain? It's beautiful. You'll love the color and feel. The weight and materials are just nice. Highly recommended.
100% polyester
Thermal insulated blackout curtains
Contains an extra wide thermal room darkening grommet curtain panel
Embossed metal grommets fit up to a 1.5" decorative curtain rod and are easy to keep clean
Machine washable