Finding the right nursing nightgown can be difficult, with a plethora of options in the market varying in design, material, color and more. A nursing pajama should be comfortable and facilitate breastfeeding, especially during the night when babies can nurse up to 8 times in 24 hours. These recommended nightgowns are made of quality material, easy to wash, and provide comfort for both mother and baby during nighttime breastfeeding.
Best Pacifiers for Breastfed Baby
A List of Top 10 Best Nightgowns for Nursing
Ekouaer 3 in 1 nursing nightgown

Ekouaer is an efficient and straightforward nursing nightgown to feed your baby comfortably. The gown is made up of soft fabric ( 95% rayon and 5% spandex), making it enjoyable to wear during the day or night. It is ideal either as a nursing gown or maternity gown. The following are some of its pros and cons.
Pros
Available in a variety of colors.
Available in all sizes.
An opening on the breast area for ease while breastfeeding of the baby
The dress has irregular length making it wearable before and after your baby.
Cons
You have to use your two hands to unzip it for nursing
Some of the colors of the gowns are semi-transparent
Baby Be Mine 3 in 1 nightgown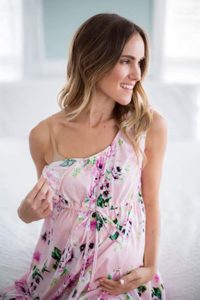 This nursing nightgown can be worn before and after delivery. It is easy to nurse your baby while wearing it. It is comfortable to wear and has shoulder snaps that allow easy access while nursing.
Pros
Snap closures
Available in a wide variety of colors and designs.
An adjustable empire waistline.
Cons
It can shrink if dried to high heat
Its fabric is stiffer than other materials.
Its fabric doest wick moisture well.
Kindred Bravely Lucille Nursing Nightgown & Maternity Gown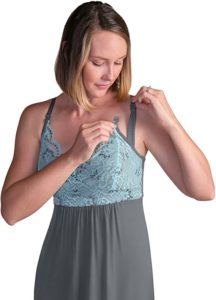 This gown is available in a variety of cute colors. It has a lacy design upper front and back half and soft and flowy bottom half. It is also available in a variety of lovely colors.
Pros
It is a lightweight and breathable fabric.
This nightgown does not have snaps, clips, or elastic bands that irritate.
It has a discreet criss-cross bust design.
Cons
The sizes available do not accommodate larger bust sizes.
The fabric makes leaks and spits up visible.
Baby Be Mine 2 in 1 Maternity Nursing Nightgown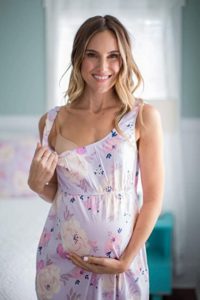 This gown is from a fabric that is soft, breathable, and allows a little stretching. It is available in a wide range of designs, making it double as a nightgown and a maternity dress.
Pros
It has a stretchable round neckline.
It is easy to wash and also machine washable.
It's soft and breathable.
Cons
It shrinks when dried on high heat.
You will need to wear a nursing bra with it.
iloveSIA 3PCS Women's Maternity Nursing Nightgown

This gown has an inbuilt bra making it a choice for mothers who do not want to wear a bra after delivery. It is blended from 92% nylon and 8% spandex, making it a stretchy and comfortable fabric. Therefore, it is the best nightgown for nursing.
Pros
A built-in adjustable bra.
Drop-down clips that make feeding the baby relaxed.
A simple design with a comfortable and stretchy fabric.
They are in a set of 2 that are different in colors.
Cons
The fabric of this gown is not breathable.
The nursing pad bunches and need frequent adjustment.
Ekouaer Maternity Nursing Nightgown

This sleepwear is one of the best nightgowns for nursing. It is from a soft and stretchy fabric. The top half of the dress has button-down design, making breastfeeding your baby comfortable. It has cute adjustable spaghetti straps.
Pros
It has a thin and breathable fabric design.
The button-down design makes the gown convenient for night nursing.
The dress is tough enough to wash when need be.
It can be worn with or without a nursing bra.
Cons
Buttons can be hectic to open using one hand.
The ruched design around the waistline can be tighter to some mothers.
Motherhood Maternity Lace-Trim Nursing Nightgown
It comes with a range of colors with a quality fabric that is light in weight and breathable. This nightgown has a clip-down nursing top that you can easily unclasp using one hand. It is easy to wash this gown, and it does not shrink from frequent washing and drying.
Pros
Soft and breathable.
A clip down nursing top that is easy to unclasp using one hand.
A built-in bra that is perfect for providing support.
Cons
The nightgown bust elastic can be somehow tight.
Mothers en Vogue Bamboo Caminurse PJ & Robe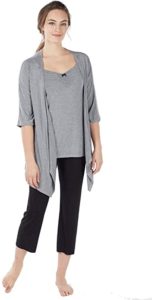 The caminurse PJ & Robe is among the best nightgowns for nursing. It consists of three pretty pieces that are ¾ sleeve pajama, matching Capri pajama pants and a camisole top. It is made from ultra-soft material, making it comfortable when worn.
Pros
Its rayon fabric is comfortable and breathable
It has pants that resemble yoga pants and a robe that is comfy to wear
The nightgown has breast cups that are adjustable in size.
Cons
This gown does not hold the breast pads in place.
The pants may make you feel hot in the summer season.
Kindred bravely soft maternity and nursing nightgown dress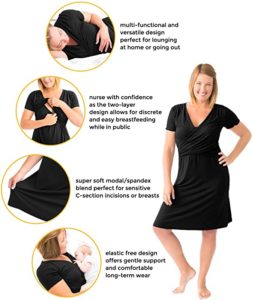 It comes in a set of top and bottom pajamas. It's stylish and made from a smooth and elastic fabric, making it very comfortable. The pants have a soft and stretchy waistband that does not irritate.
Pros
ISoft waistband to prevent irritation.
Easy breastfeeding access.
Easy to wash even in washing machines.
Cons
This set is only fit for postpartum use because they may feel tight during the pregnancy.
Ekouaer Women's Button-down Nightgown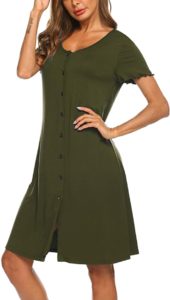 It is sleepwear that is perfect to wear before and after delivery. It is stretchy and has buttons on the front attached from up to down.
Pros
The buttons do not cause any irritation as you sleep.
Its fabric is thin and breathable.
It does not shrink on cleaning and drying.
Cons
It does not allow discreet breastfeeding of the baby.