Japanese futons are an excellent solution for people who have posture issues or limited space. They offer comfort and stability for better spinal and back alignment. These mattresses can be placed on the floor and easily stored in a cabinet or compact space when not in use. However, choosing the right Japanese futon can be a challenge. To make it easier, this article lists the top 5 best Japanese futons on the market. These futons are made of soft, cushioned, and durable materials, providing comfort for years to come. If you need extra sleeping space without adding clutter to your home, a Japanese futon is a smart investment.
[ Best Ikea Mattresses for Side Sleepers ]
[ Best Gel Memory Foam Mattresses ]
A List of Top 5 Best Japanese Futon Mattresses
YOSHOOT Pink Unicorn Floor Mattress for Kids, Japanese Futon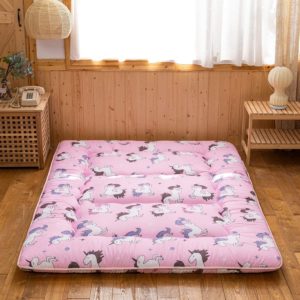 Whether you need a temporary bed, camping mattress, floor lounger, kids play mat, or a Japanese futon mattress, I would recommend Yoshoot Floor Mattress. It is best suited for girls, thanks to the cute pink unicorn pattern. The futon has a 100%cotton cover and cotton/memory foam filling.
Additional features and benefits include:
If you want to enjoy a healthy sleep time, Yoshoot Japanese Futon is an excellent option. It is 10cm thick and designed with memory foam to provide reliable support while lying on it. Furthermore, the memory foam offers moderate support to let you sleep fast and comfortably. The top and bottom sections highlight a cotton material that is soft to touch for a comfortable sleeping experience.
Besides memory foam, this futon features a 3-layer core design. It has a 1" thick microfiber cotton on the top and bottom layer. The middle layer highlights a 2" memory foam, which means that the overall size is 4". Because of this, the futon can offer perfect body support to eliminate back pain and back stiffness for good body support.
Finally, Yoshoot responds to the need for a portable Japanese Futon. It is foldable and easy to store in the included storage bag so that you can travel with it. While at home, you can keep it in a closet after use, thanks to the compact size after folding.
MustMat Tatami Mat Japanese Futon
This is a multipurpose Japanese futon. You can use it as an oriental rug on the floor or an underlay mattress for traditional Japanese futons. The futon helps you deal with back problems so that you can use it for relaxation in a longer room.
Additional features and benefits
If you are an individual who loves who sleep on hard platforms, this is one of the best Japanese futons. It is firm but comfortable to relieve problems as a result of back pain. If you are not used to sleeping on firm surfaces, you could take several nights to get used to the futon but rest assured to benefit from comfort.
This futon highlights 100% rush grass on the surface. The grass has a peculiar smell, which means that you can shade it in a well-ventilated place if not comfortable with the smell. The backside features n-woven fabric to ensure stability by protecting the mattress from slipping.
The MustMat Tatami Japanese Futon folds into four. After folding, the futon measures 35.4" x 19.7" x 4.8" to guarantee compact storage. Moreover, the futon is lightweight at 7pounds to facilitate portability.
FULI Japanese Traditional Shiki Futon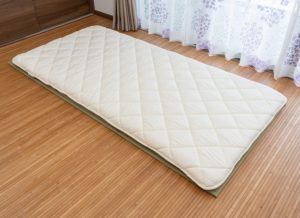 If you are looking for a high-quality Japanese futon, the Fuli Traditional Shiki Futon is an excellent option. It highlights a cotton material to guarantee durability. Adding to that, the futon has a soft cushioning that provides a soft and comfortable feeling when using it on hard floor wood surfaces.
The Fuli Japanese Futon highlights a durable construction. It is designed with 100% cotton fabric and stuffed with a mixture of 100% polyester and polyurethane foam. Because of this, the futon can provide combined cushioning and firmness to ensure comfort and support to the user.
Still, this futon is portable. You can use it on the floor during the night and roll it up during the day to free up space. And given that it is foldable and rollable, it is easy to store into compact spaces after use. Plus, the Japanese futon is lightweight at 8pounds, thus an excellent choice for use away from home.
JIEJIELL Japanese Floor Mattress, Mat for Guest Dorm Tent, Rolled-up Rebound Latex Futon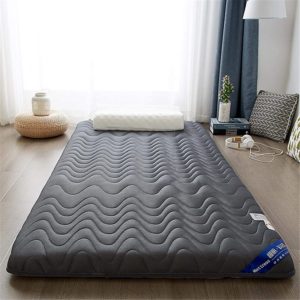 Enjoy healthier and more comfortable sleep after investing in Jiejiell Japanese Floor Mattress. It is thick and cushioned so that you can enjoy a healthier and more comfortable sleep. Also, it is foldable and portable making it easy to store and carry.
If you need a futon that will fit the body better and relieve body pressure, the Jiejiell Japanese Floor Mattress is an excellent solution. It can protect the neck and waist for stress-free support. The futon highlights double the amount of cotton in traditional mattresses for stress-relieving comfort. It is soft and equipped with super ventilation to protect you from accumulating sweat. And because of the unique quilting design, the filling remains evenly distributed for user comfort.
Best suited for dormitories, camping, or guest rooms, this is a portable Japanese futon. It is easy to fold and fit into a cabinet or storage bag when you need to free up space or travel with it. Furthermore, the futon is lightweight for portability.
Finally, this is one of the best futons when you need one that provides comfort, resiliency, and cushioning. It highlights a five-layer structure and 5cm thickness. In particular, there is a firm latex pad sandwiched between layers of soft polyester quilt resulting in good support and even force for optimal comfort and support.
ASDFGH Traditional Japanese Quilting Futon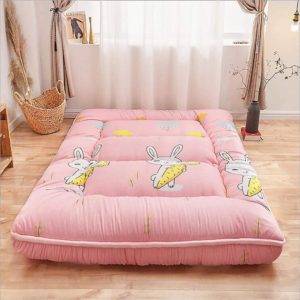 Last but not least we have the ASDFGH Traditional Japanese Quilting Futon. It features polyester fabrics and a polyester filler for durability and user comfort. These materials are soft to the touch for user comfort. The futon is foldable, thus an ideal choice for camping or use in apartments and tight spaces.
If cleaning and maintenance is an issue when purchasing a Japanese futon, I would recommend that you get the ASDFGH Traditional Japanese Quilting Futon. It is machine washable, a measure that guarantees easy cleaning. Furthermore, it can be tumble dried on the low cycle for effortless maintenance. The futon is fade-resistant so that you can clean it without the fear of losing its color.
Comfortable and environmentally friendly
Still, this futon is comfortable and environmentally-friendly. It is made of high-quality cotton to guarantee durability. Better still, the futon is soft and breathable to ensure comfort to the user. Because of the humanized design, the futon doesn't move around while sleeping so that your sleep is not affected. Finally, the futon offers good resilience, meaning that it can maintain its shape over the years.