Looking to encourage your kids to play outside? Outdoor play is important for a child's growth and well-being. Check out these reviewed playsets with various game combinations that can stimulate your child's motor skills and creativity. Choose one that will hold your child's attention from the top 10 backyard playsets reviewed.
A List of Top 10 Best Outdoor Playsets for Kids
Little Tikes Hide and Seek Climber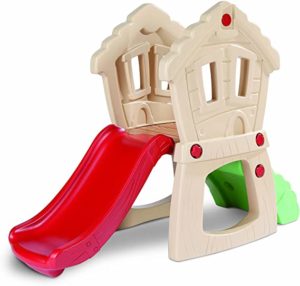 The Little Tikes is a hide and seek climber that is rightly sized for use by toddlers. It can supports a maximum amount of two kids at a time, each with a maximum weight of up to 45lbs. The climber includes easy-climbing rock walls suitable for beginners. Also, it includes adventurous tunnels that allow kids to crawl through and hide in.
A gentle slope is another plus suitable for delivering soft landing. Plus, clubhouse windows are easy to peek through to enhance the fun of the game. The climber is made using high-quality materials for use in the backyard. On arrival, it requires some assembly, but it is easy to put together.
Little Tikes Inflatable Jump 'n Slide Bounce House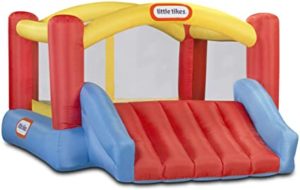 Next, we have an inflatable slide bounce house. In it, kids can enjoy the fun of jumping, bouncing, and sliding. The bouncer features tall walls with a mesh netting surround jumping area. Because of this, you can watch over the kids to ensure that they are playing safely. What's more, it includes stakes that allow you to anchor it firmly.
A heavy-duty blower is also provided to deliver a continuous airflow. Besides, the bounce house is built using a puncture-resistant material to guarantee strength. The bounce house can support up to three kids at a time. It offers a maximum weight limit of up to 250lbs. The bouncer can inflate in minutes and deflate for compact storage after use.
5pc Kids Ball Pit Tents and Tunnels, Toddler Jungle Gym Play Tent x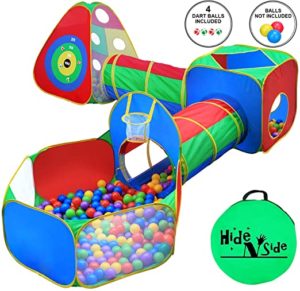 This is a Toddler Jungle Gym Play Tent with a play crawl tunnel toy. It is suitable for use by kids aged 1-6 years. Besides that, it also provides an enjoyable experience for adults. So kids can play with their parents. The tent features a bright and colorful design aimed to attract kids. It is made using high-quality 190T soft polyester fabric and thick steel wiring. So it's quite durable. These materials are lightweight for easy transfer from the indoors to the outdoors.
The toy can enhance kids' creativity and imagination. Why? Thanks to the ability to customize it in many different maze options. It includes three dart balls, but it is recommendable to have 400 to 600 balls depending on the size of the balls.
Step2 Rain Showers Splash Pond Water Table | Kids Water Play Table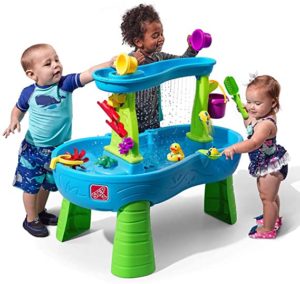 For water fun games, this is one of the best outdoor playsets. Using it, you can create a mini water park in your backyard. Ideally, the set features a pond water table. You can pour water into the pond.
Kids can scoop it using the included cups. They can pour it into the top waterfall tray to activate a rainfall effect as water splashes back into the pond. The unit includes maze-like spinners, buckets, and ramps. It's designed to be activated as the waterfall drains back into the pond to enhance the fun. Also, there are hand-held spinning wheels to allow kids to make a spinning splash in the rainfall. The water table is spacious enough to allow many kids to play at a time.
Fisher-Price Little People Travel Together Friend Ship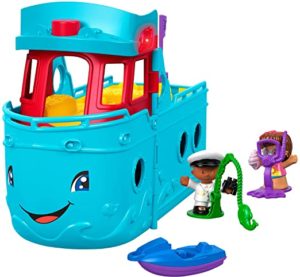 A must-have for active kids is the Fisher-Price Little People Travel Together Friend Ship. It includes Captain Beau & Mia figures with three play accessories.
After opening the ship, it reveals a multi-level vacation destination with a swinging hammock. Your kids can press the discovery button that activates the hammock to let Mia swing. Also, they can push the captain's seat for exciting songs, phrases, and sounds. The ship is lightweight and durable so that kids can handle it comfortably and safely. It is best for creating kid-sized versions of real-life experiences.
Step2 Fun with Friends Kitchen | Large Plastic Play Kitchen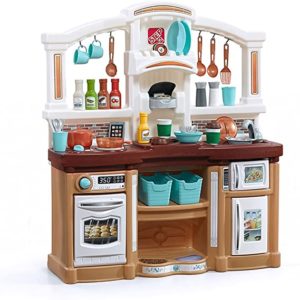 A perfect playset when looking for a set that will mimic a real kitchen is Step2 Fun with Friends Kitchen. It is a large play kitchen made using sturdy plastic. The kitchen features appliance doors, an oven, microwave, and refrigerator.
All is designed to open like the real-appliance doors. Also, it includes molded-in storage. It has molded-in dish racks, storage bins, shelves, and a single-serve coffee pod space. The realistic stovetop features working lights and sizzling sounds. Kids can use the set while starting a restaurant game. The included play phone that allows them to take orders.
Little Tikes Little Baby Bum Wheels on the Bus Climber and Slide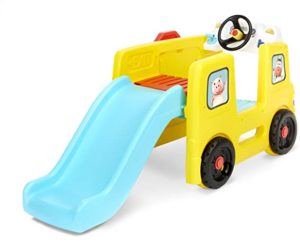 From Little Tikes we have a Little Baby Bum Wheels on The Bus Climber and Slide. It features a durable design that makes it suitable for indoor and outdoor use. The playset incorporates an 18″ high slide with a gentle slope for fun and a safe playing experience. Also, it features an interactive musical dashboard.
The dashboard features a working horn, gear shifter, and ignition for imaginative play. Kids can use the playset for a school bus roleplay. The bus stop sign can be folded in and out like that of a real school bus. It is great for helping kids understand letters, animals, and numbers.
Playz 5-Piece Kids Pop up Play Tent Crawl Tunnel and Ball Pit with Basketball Hoop Playhouse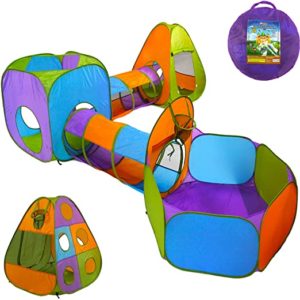 A fun playset when looking for an ideal playhouse for outdoor or indoor use is Playz 5-Piece Kids Pop up Play Tent. It is safe for use by kids. The breathable mesh walls and soft thick fabric offer a safe experience. The tent features a 4-way access to let you make different combinations. It comes in vibrant colors and interchangeable pieces.
You can customize the playset into dozens of different combinations. 5 mesh net holes and a basketball hoop include a cool ball return funnel that allows kids to play a variety of games. Plus, the play tent includes special ground anchor loops that secure it outside on a windy day.
Giant Foam Building Blocks, Building Toy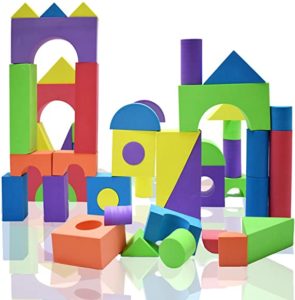 Giant Foam Building Blocks will give your kids fun. It can stimulate their creativity and ability. The building toy comes as a set of 50 pieces of foam blocks. The blocks come in 6 colors and many shapes to provide your kids with endless possibilities. What's more, the foam building blocks are sized for toddlers and comfortable to hold. Thus, they are a perfect choice for a playset that is safe to use.
All pieces are made from non-toxic materials make them an ideal choice for a baby's sensitive skin. Not only that, but the building blocks are waterproof and so, easy to clean.
Lydaz Flowers Garden Building Toys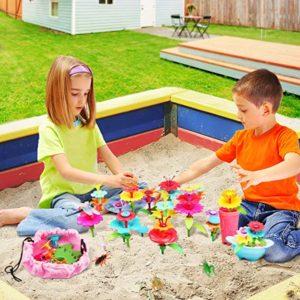 Lydaz Flowers Garden Building Toys can enhance your kid's creativity and imagination. The set comprises of 96 pieces of colorful plastic flowers. Several kids can play together. Besides that, there are 12 pieces of fake bees and butterfly, all made using ABS plastic.
The flowers, bees, and butterfly feature BPA-free material to guarantee the safety. Also, there is a waterproof non-woven bag for the safe storage of these pieces. Lydaz Flowers Garden Building Toys is sturdy enough for indoor and outdoor use. Kids can stack the toys in different colors and shapes to enhance their imagination.