What is the purpose of a nursing stool? It helps alleviate lower back, shoulder, neck, and wrist pain for breastfeeding mothers by providing an ergonomic footrest, which supports a comfortable position. It also reduces pressure on the ankles and can improve blood circulation, helping to combat foot swelling. Here are the 10 best nursing stools for most moms.
A List of Top 10 Best Nursing Stools
My Brest Friend Nursing Stool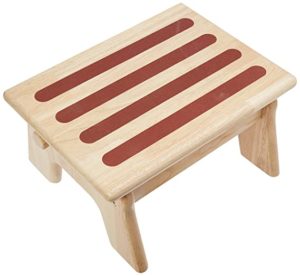 My Brest Friend Nursing Stool takes the first position in this review. It serves as a combination of a durable and safe-to-use nursing stool. The stool is made using sustainable rubberwood that is both durable and safe use. It features a non-slip surface to maintain your feet firmly plated. The nursing stool has knobs to adjust the tilt to achieve comfortable positions. You can ease back strain. Its ability to help you improve the posture and reduce the stress on the neck and shoulders. And after nursing, the stool can act as a perfect footstool for a toddler.
Made from sustainable rubber wood
Adjustable to different angles
Easy to use
Solid build, durable
CozyDoc Ergonomic Foot Rest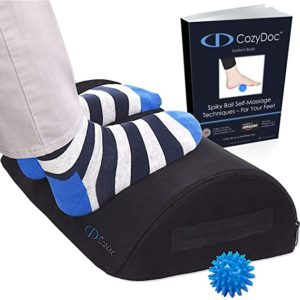 This is an ergonomic footrest for use while nursing, gaming, working, or working in an office. It features an asymmetrically curved footrest cushion. The cushion places the legs and feet in the most ergonomic positions. You can get the footrest when looking for the best nursing stool. The cushion features high-resilience foam that is neither too soft nor too firm. The bottom features an anti-slip design for safety. Plus, a built-in carry handle makes the stool easy to carry. The removable cover is another addition for easy cleaning.
Cushions are stuffed with therapeutic high resilience foam
Removable and washable cover
It comes with a carry handle for ease of travel
ErgoFoam Adjustable Foot Rest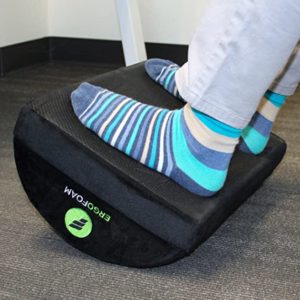 The best choice for a versatile nursing stool is ErgoFoam Adjustable Foot Rest. It is great for use by people of different heights. The reason is the adjustable height that moves from 3.9″ to 5.9″. Better, the footrest doubles as a rocker. The reason is the ability to flip it over and use it to keep your feet moving to improve your circulation. You can use the footrest anywhere, thanks to the portable design. Besides, it features a foam construction. This design offers a plushy surface to enhance comfort after hours of use. The footrest is available in premium velvet or breathable mesh.
Doubles as a rocker
Easy to adjust to your comfort
Portable: Use it anywhere
KR Ideas Padded Foot Stool

An excellent choice for a nursing stool that blends comfort and luxury is the KR Ideas Padded Foot Stool. It measures 15'' long X 10'' wide X 9'' tall. The footstool features a frame that is made out of a hardwood. Because of this, it acts as an excellent option for a durable nursing stool. What's more, each stool is individually hand-sanded, sealed, and stained. As such, you can get it when looking for a long-lasting footstool. The seat integrates a quality soft fabric to enhance comfort. It comes in a variety of fabrics and finishes for you to pick one that compliments your living space.
Quality, soft fabric
Frames available in both Maple & Walnut stains
Handcrafted in the U.S.A
Scriptract 6″ Small Footstool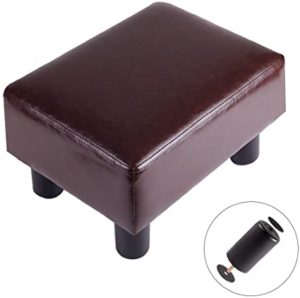 The Scriptract is a 6″ Small Footstool. It features a quality solid wood construction to guarantee strength. The stool features four, 3.5″-wide legs that support a weight up to 330pounds while ensuring stability. The footstool doubles as a seat, and footrest, thanks to the versatile design. It features a superior thick 28D sponge that guarantees user comfort after hours of use. The anti-slip design is another design that protects floors from scratches. Also, the footstool includes a waterproof PU leather cover for easy to cleaning. The stool's bottom consists of a zipper pocket that holds small items such as car keys or small toys.
Waterproof durable PU leather
High quality thick and high density sponge
Sturdy base of this footrest
Small storage behind the seat
Prime Products 32-0401 Foot Valet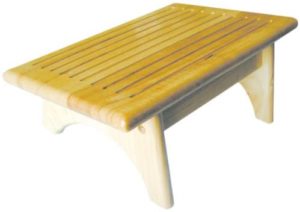 Next, we have the Prime Products 32-0401 Foot Valet. If you are looking for a durable nursing stool, this is one of the best choices. It features sturdy wood construction that is not only durable but also stylish. The stool has a large foot area suitable for placing a set of feet comfortably. The base incorporates four non-slip feet and a broad design to enhance stability. You can use it like a stool that provides a comfortable sitting surface.
Supports your feet when sitting in high back RV chairs
Large foot area
Foot Valet can also be used as a small stool
StrongTek Nursing Stool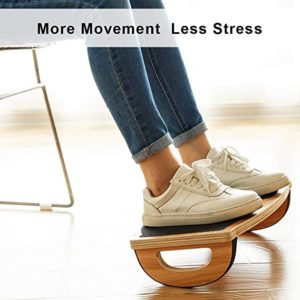 A perfect way to reduce foot fatigue, it can improve your focus lies in using StrongTek Nursing Stool. It is an ergonomic stool that alleviates your legs, feet, and knees. The stool is crafted with heavy-duty Lauan hardwood. Because of this, it can deliver long-lasting strength for reliable durability. It features a slip-resistant top textured surface. The surface helps you to maintain the control of the feet while protecting you from slipping. The bottom of the stool has anti-slip rubber grip bottoms to safeguard it from sliding. Ergonomic design, the footrest is wide and capable of supporting a 350lbs weight.
Lightweight and portable
Well balanced wood build
Comfecto Dr. Foot Rest Wood Ergonomic Wood Foot Stool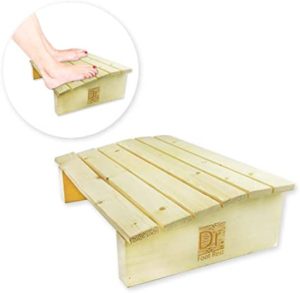 Comfecto Dr. Foot Rest is one of the best nursing stools to prevent lower back pain. It is made using natural pine wood. The wood is sturdy and safe, with a maximum weight capacity of up to 264.5lbs. The footrest is great for the feet to rest naturally for healthy blood circulation. The footstool features a broad base for stability. Its top surface is slip-resistant for user safety.
Strong and sturdy
100% natural pinewood
KidKraft Nursing Stool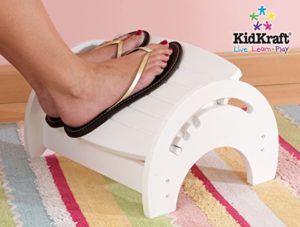 Are you looking for a perfect baby shower gift for a mom who purportedly has everything? If so, I would recommend the KidKraft Nursing Stool. It is a durable nursing stool made using solid wood. The wood surface features a lead-free and non-toxic finish for safety and durability. You can expect the nursing stool to maintain the user in a comfortable and safe position. The anti-slip pads on the base is great. Besides, the nursing stool can adjust to 3 positions. The nursing mom can always find a posture that will maintain her in a comfortable position.
Materials: wood
Anti-slip pads on the base
Lead-free and non-toxic finish
Anti-slip pads on the base
Leachco Rock N Soft Cushioned Nursing Stool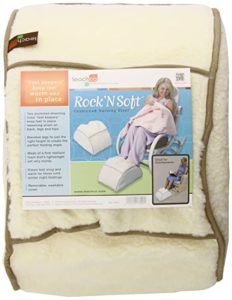 Concluding our review is Leachco Rock N Soft Cushioned Nursing Stool. If you suffer from cold feet, you might want to get this nursing stool. It incorporates faux fleece-lined "feet keepers." You can sink your feet into the keepers and maintain warm feet during cold winter nights. The keepers maintain your feet in a snug position to reduce calf muscle strain while rocking. The nursing stool integrates a removable and washable cover for easy maintenance. It is lightweight for convenient transportation. Besides that, it is very sturdy, an ideal choice for a durable nursing stool.
Lightweight yet very sturdy
Sham-style removable, washable cover