Can you use two baby monitors at once? Yes, with a split-screen monitor that has dual audio, you can keep track of two rooms at once. It's recommended to have two cameras for twins for safety. There are many WiFi-enabled baby monitors under $200. Investing in a dual baby monitor is a great idea for your baby's safety. What are some of the best options?
Where to place a baby monitor? Keep it at least 6 feet away from your baby to avoid radiation emissions. Avoid obstructions and make sure the camera and microphone can clearly hear your baby.
Are baby monitors dangerous? No, they are not dangerous. In fact, they can help keep your baby safe and give you peace of mind. While there have been reports of hackers hijacking video baby monitors, IP cameras are still safe if you take steps to secure your home network.
Also Recommended: Best Outdoor Playsets for Kids
A List of Best Dual Baby Monitors
LBtech Video Baby Monitor with Two Cameras and 4.3″ LCD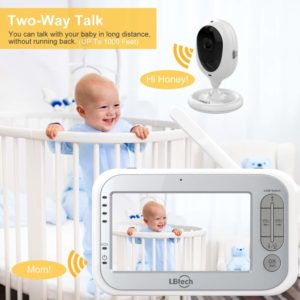 Top of this list of reviews, I'm going to introduce you to Amazon's best-seller baby monitor with 2 cameras. Ease of use and installation are the reason for most parents. The baby camera is plug and play. There is no set up required. You can easily adjust the brightness and volume any time. A great feature I like the most is the infrared night vision. You can still see your baby in dark or low light conditions. Affordable price, it's the best value for your money.
2-way talk
Temperature monitoring and warning
Automatic night vision
2x Digital Zoom in and Power saving/Voice activation mode
Multi-camera expandability
Motorola Video Baby Monitor – 2 Wide Angle HD Cameras with Infrared Night Vision and Remote Pan
The 5″ LCD color display is superb. Most parents love it. You can easily adjust the viewing angle remotely (pan, tilt, or zoom) for both cameras via the handy parent unit. What sets this Motorola Video Baby Monitor apart is the Hubble for Motorola Monitors app. What's really cool about this app? Growth and Development Tracker, Baby Facts of the Day, and Receive Sleep and Parenting Tips are handy to have. It's available for iOS and Android.
Also, you can have the video camera switch back-and-forth about every seven seconds and that comes the full screen view and clear audio.
A 2-way intercom system
Infrared night vision
High-sensitivity microphones
Camera's built-in speakers
VAVA Baby Monitor Split View, 5″ 720P Video Baby Monitor with 2 Cameras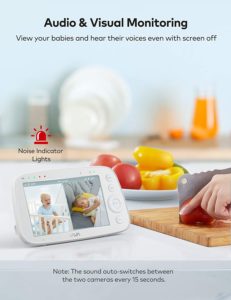 The 5" 720P IPS screen is one of the best dual baby monitors available in the market. Good battery life is what you can expect from the VAVA brand. Also, it's easy to install and use.
Split View Design
5" 720P IPS Screen
Multi-functional monitor
Long battery life
Long transmission range: 2 cameras stay connected within 900ft