The headboard is a crucial part of any bed and can transform the appearance of your bedroom. Not only do they add aesthetics, but they can also serve as storage or a place to sit. To enhance your bedroom, consider changing your headboard. Wooden headboards offer a sophisticated and timeless appearance while improving your room's visual appeal. There are countless choices of headboards, with durable construction and stunning designs, you're sure to find the perfect size, color, and shape.
A List of The Best Wooden Headboards
Modway Lily Tufted Upholstered Linen Fabric Queen Headboard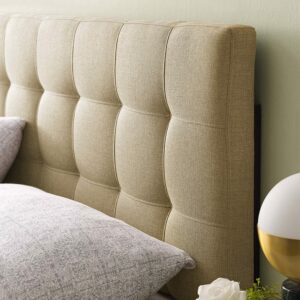 If you are searching for a modern, contemporary headboard that will add elegance to your bedroom, you are going to love this Queen Headboard from Modway. It is made from durable plywood and fiberboard making it sturdy for the night after night peaceful sleeping. What's more, this headboard is padded to provide supportive comfort.
Ideally, this headboard has a structured pattern that allows a chic look. This makes it perfect for a modern and contemporary bedroom. This amazing headboard has 7 height adjustable mounting positions allowing you to customize and it can attach to most queen bed frames. The subtle yet stunning details of this queen-size headboard ensure that it does not go out of style.
Assembling this headboard is very easy and it comes with all the necessary tools. Another thing, this reliable and durable Headboard allows you to sleep soundly, while still conveying the right amount of style.
Features
• Made with durable plywood and fiberboard
• Perfect for a guest suite and master bedroom
• Has dense foam provides supportive comfort
• Stylish characteristics and an elegant design
• Seven height-adjustable mounting positions
Modway Keira Full / Queen Tufted Velvet Headboard, Gray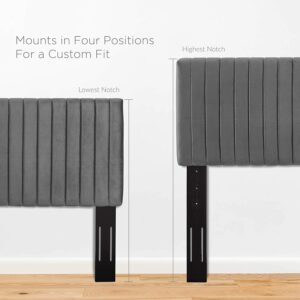 This gorgeous Modway Keira Headboard will definitely transform your bedroom into a country chic farmhouse you have been dreaming of. It comes with solid particleboard and wood frame to ensure that it will serve you for many years. In addition to that, this Headboard features striped channel tufting, a chic squared profile, velvet texture to bring classic sophistication and timeless appeal to a bedroom.
Blending classic and modern styles, this queen/ full headboard is a great addition to a guest room or master bedroom creating perfect backdrop to various sham styles and bedding. Other than that, the headboard is height adjustable with 4 mounting positions from 40 inches to 47.5 inches.
You can lean back and relax whenever you are watching TV or reading in bed since it has dense foam padding. Moreover, it is covered with soft stain-resistant performance velvet.
Key features
• Has striped channel tufting and velvet texture
• Height adjustable and has 4 mounting positions
• Built with solid wood and particleboard frame
• Velvet made of stain-resistant polyester fabric
• Ideal for the master bedroom or guest room
Barn Walls Rustic Hanger Style Mix Headboard Queen Size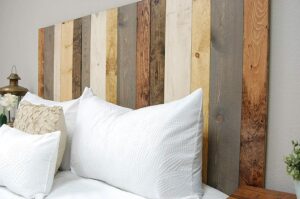 This sturdy and straightforward Queen Size Headboard from Barn is just perfect for giving a classic look and an additional complement to your bedroom décor. It is constructed from real thick ¾ inches of wood for durability. In addition to that, this queen-size Headboard is very easy to install as nails and hooks are included alongside step by step instructions guide.
It is included with three panels measuring 64.5 inches x 2 inches x 36 inches. It will give your bedroom an eye-pleasing design with originality and a stylish look. Another thing, it comes with a rustic mix of colors that includes golden oak, dark walnut, honey, and coastal gray.
This Headboard is built with individual panels that you can hang onto the wall just like a picture frame. It comes in a well-packed box measuring 39 inches x 22 inches x 8 inches hence it does not take a lot of space and you can move it from one room to another with ease.
Features
• Made with real thick ¾ inches of wood
• Hooks and nails are included
• Has an eye-pleasing design
• Compatible with adjustable beds
• Comes with step by step instructions for easy installation
Mantua Arcadia wood Full/Queen headboard, Ebony
This beautifully molded solid headboard by Mantua can be easily accommodated in any modern bedroom. It is made from solid wood materials for durability. In addition to that, its ebony finish and classic design complement any bedroom. Ideally, this headboard easily attaches to a traditional Queen or full metal bed frame and you can combine it with matching nightstands for a coordinated bedroom look.
Typically, this headboard is very easy to assemble as it is included with all mounting hardware. What's more, you can choose either ebony or blue finish to make it stand out in your light-colored or white bedroom. The gloss white or eggshell white contrast well with darker-painted rooms
Its unique design makes this headboard to be used for the queen or full-sized beds. Its elegant yet simple wood pattern gives texture to your room without overbearing.
Features
• Has solid wood construction
• Easy to assemble
• Comes in vibrant blue or ebony finish
• Fits full or queen beds
• All hardware to assemble are included
Fashion Bed Group Leggett and Platt Wood Headboard Panel with Slatted Grill Design, Twin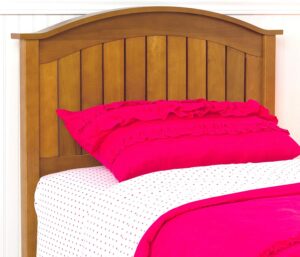 If you are tired of replacing headboards after few uses, it's time to transform your bedroom with this Wood Headboard Panel from Fashion Bed Group. It features a classic and simple design making it ideal for decorating your sleeping space in style. Ideally, this headboard is made from solid Plantation hardwood. It is going to provide a timeless look that is ideal for both adults and kids.
This Headboard measures 44.75 inches x 40.5 inches x 3 inches and it is designed with a curved top rail that gives a bit of flair. The Finley is available in Merlot, White, Maple, or black finish. Besides that, this unit includes an instruction sheet, a headboard panel, and a hardware bag with everything required for easy assembly.
It will create a timeless sleeping space that allows you to stay in style for many years to come. You can never go wrong when you purchase this product as it is offered with 10 years limited warranty.
Features
• Measures 44.75 x 40.5 x 3 inches
• Designed with curved top rail
• Offered with 10-year limited warranty
• Constructed of solid wood
• Available in 4 hand-applied wooden finishes